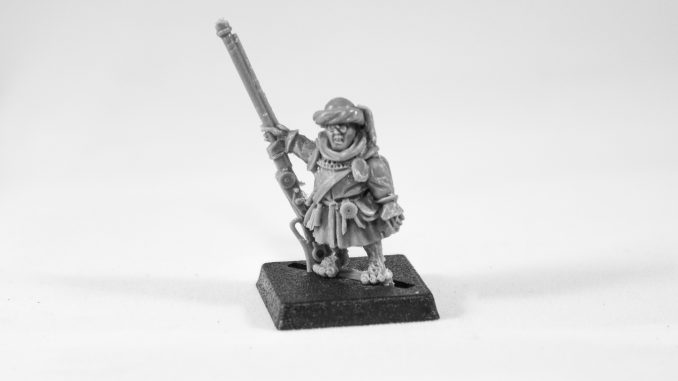 ​I backed The Second Breakfast Kickstarter Campaign run by Westfalia Miniatures, I previously backed a Kickstarter Campaign in 2015 of theirs and they delivered pretty much on time with a decent quality. Westfalia MIniatures have been creating a line of Halfmen (Halflings!) miniatures that I've been happy to follow and back. The Second Breakfast was delivered slightly early in August of 2017 with an ETA of September 2017. That may be a minor detail, but of all the horror stories involving Kickstarter out there, this is great!
Backing The Second Breakfast
The miniatures came packaged in a padded envelope and sorted into small bags. I pledged for The Ambush Force which included the following minis:
9 Merry Scouts
1 Maid Mariam
5 Merry Goat Rangers
1 Rob Halfhood
1 Mortar
1 Organ Gun
3 Gunners
1 Engineer
My plans are to use them with Kings of War in a League of Rhodira army and I've been collecting Halfling miniatures for the last 4 years now. These are the remaining few to fill in a few gaps in terms of characters, war machines, and cavalry.
As you can see in the gallery below, I assembled all of these figures and they are all cast out of a grey resin. Assembly went really smoothly. The quality of the resin was good and the castings were overall in good shape. I'll highlight a few things later on about the resin.
I was a little dismayed that the pledge didn't include bases for any of the figures. Although I do have a large stash of bases in all sorts of shapes and sizes, as I'm sure most wargamers do. I would not have been upset had they decided to include some bases for these miniatures however.
While I've been collecting Halflings for this army for years, I've been paying close attention to the scale of each manufacturers halflings. One of the things that the kickstarter did that I appreciated was a scale comparison, specifically against some of the other Halflings I already own from Games Workshop. While Westfalia's Halfmen aren't as portly as Game Workshop halflings, they still have a bit of a chubby appearance and will fit nicely.
Resin Quality
The casts overall are pretty good, but as with any resin figures I've built and painted over the years, there's always something that needs to be addressed. In this case, there were some air bubbles present in these casts that I had to fill in. Overall, the major bubbles I found were in easy spots to fill. They didn't appear on any major features like hands or faces. The defects were mostly present on smooth helmets, a staff, and a few places underneath capes on the scouts.
In spite of a few bubbles, the sculpting and cast quality overall is still good. Rob Halfhood will make a great leader to the Merry Scouts. The casting quality is good enough that you can see the toenails on the bare feet of these Halfmen. Maid Mariam fits well as a mounted general or mounted wizard in this army and is one of only a handful of female halflings out there in miniature form.
Conclusion
I think this kickstarter went really well. Missing bases and some bubbles in resin aren't a big deal, although anyone who can deliver miniatures I don't have to fix will get high praise from me! As with most miniatures I've backed and bought from Europe, the price and currency conversion was high. If you collect halfling miniatures, you're aware at the lack of options in the 28mm wargame scale, so these guys being close in scale is a great thing. I will for sure be watching Westfalia for new Halfmen in their range going forward.