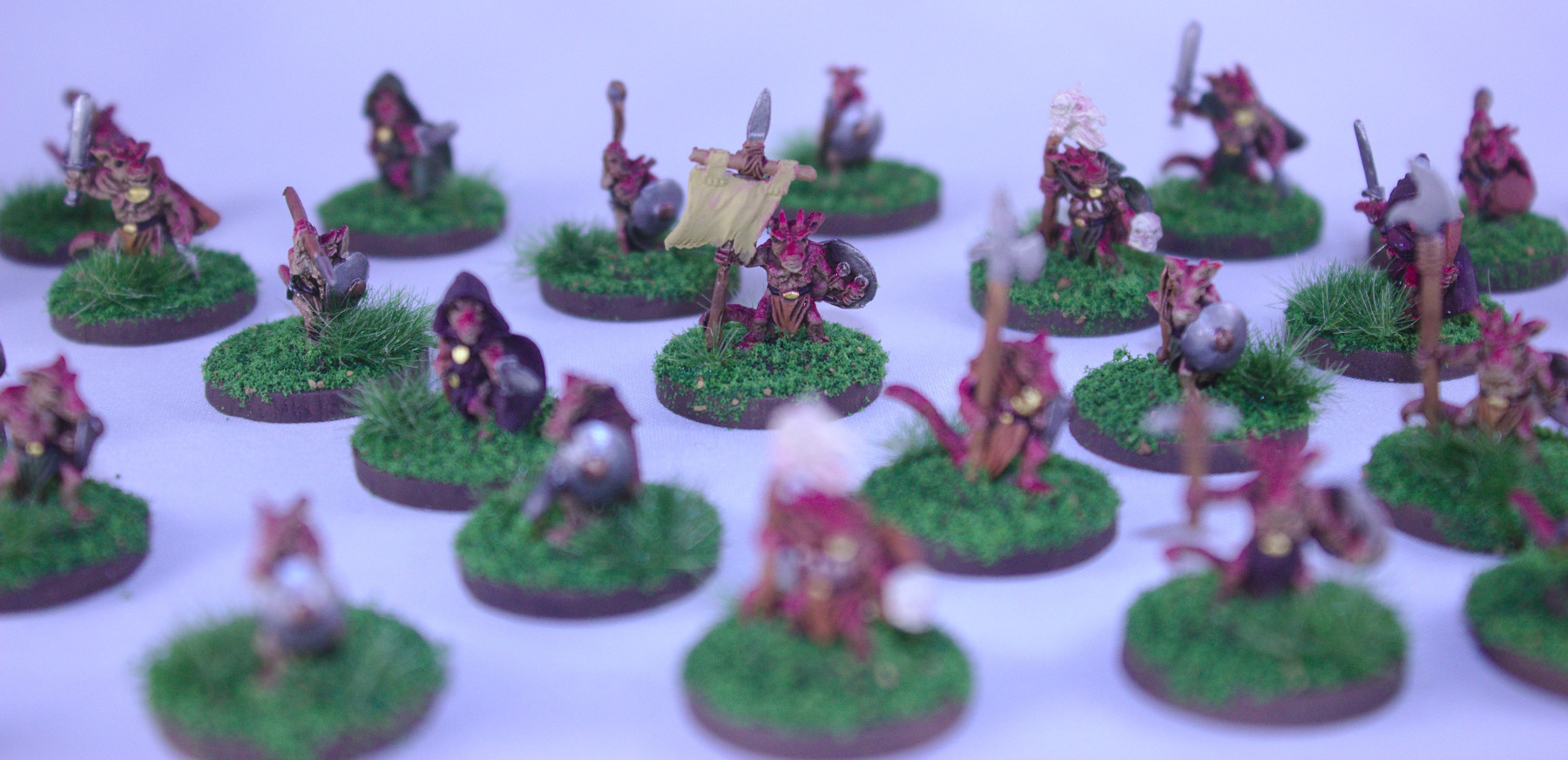 It's been awhile since I've posted, let alone painted anything, like this warband of Kobolds! Hopefully you're following along on our Instagram, if not come find us and hang out!
I've spent some time working on a few projects, but I wanted to get back into the habit of explaining what my process is hoping that it might help someone, somewhere. I picked up a few packs of Kobolds from a Rebel Minis kickstarter awhile back, and it was a good break from a large project I have going and it felt great to actually finish something.
Painting a Warband of Kobolds
Below I'll list the actual paints and materials I used to paint this warband of kobolds, but my goal with this project was to paint as fast as I could to a decent table top standard. What that means is I wanted everything to have color on it, maybe some washes to mix things in. No edge highlighting or more complex techniques were used.
I used my airbrush to apply primer, then a yellow brown color over the whole body and then from the top down a flat red to take care of the skin/tails/etc. Following the airbrushing, I painted the Loin Cloths and Cloaks one of the three colors I list below.
After that, I painted the wooden and metallic colors to cover pretty much everything in the hands of these guys and decided to highlight the models by painting the buttons and clasps a brass color. I did end up painting the eyes black because the kobolds faces looked even weirder without this detail.
I finished off by basing them with some flock and static grass and now I intend to field this group of Kobolds in games of Song of Blades and Heroes with my kids.
Paint and Supplies
Primer (Applied with an Airbrush)
Vallejo Surface Primer 73.601
full coverage with Vallejo Model Air Yellow Brown 71.246
top down coverage with Vallejo Model Air Red 71.102
Loin Cloths / cloaks (random mix of colors below)
Vallejo Model Color Luftwaffe Cam. Green 70.823
Scale 75 Cuero Naranja Orange Leather SC-28
Scale 75 Cuero Negro Black Leather SC-32
Clubs, spear shafts, wood items
Vallejo Model Color Panzer Series Beige Brown 70.875
Weapons and Shields
Belts and Eyes
Vallejo Model Color Black 70.950
Buttons and clasps
Vallejo Model Color Brass 70.801
Bases
Vallejo Model Color Burnt Umber 70.941
Stones in slings / drum mallets
Vallejo Model Color Basalt Grey 70.869
Basing material
Woodland Scenics Fine Turf, custom blend of Greens and a little light brown ballast. Static grass tufts are Mininatur Long Tufts Late Summer (727-13 S)