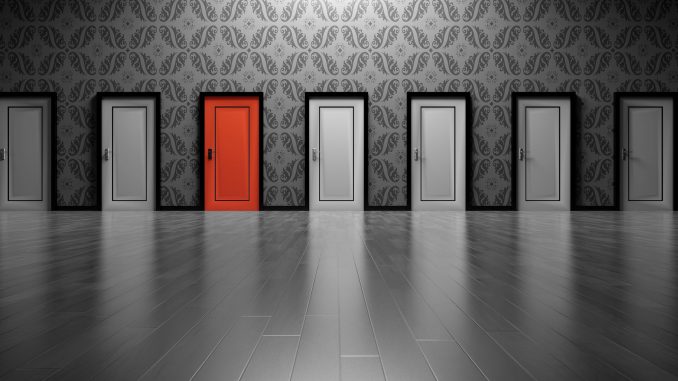 Warning: Just forewarning this review contains some spoilers for the Escape Room games listed in this review. They don't totally ruin the game but it gives you a glimpse what is inside the game. The story lines and puzzles won't be ruined. If you do not want to know what is in the games then stop reading and move on.
Escape Rooms are all the rage now. You and your group of friends go out to dinner, have drinks, and then afterwards go to an Escape Room. You get to the Escape Room to find out that its booked up for the night and your group is out of luck. Also, you find out it's $30 a ticket to do just one of the rooms. There is a better inexpensive option and you don't need reservations. Escape Room the board game!
Escape Rooms are rooms that you go into and they "lock" the door behind you. In order to "unlock" the door, you need to, as a group, solve several puzzles of various types and you have 60 minutes to solve them all. Can your group do it?
The puzzles in the room consist sometimes using cyphers, math, maps, graphs, or whatever else the Escape Room developers can think of. Some of the puzzles that you solve open the door to another puzzle that could be in a locker or case. It really is a rabbit hole of puzzles. Eventually it will lead you to the final solution and ultimately escaping from the confines of the room.
The board game version of Escape Rooms are almost identical in theory to the actual Escape Rooms. You and your group sit around the game table hypothetically trapped in a pretend room with 60 minutes to solve all the problems and escape the game.
I reviewed 3 Escape Room board games designed by 3 different board game companies. I'll compare each and give you the pro's and con's of all 3 games. After this review hopefully you will find yourself around the table escaping reality and Escaping the Room.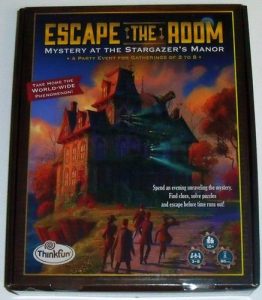 It's 1869 and the local town Astronomer went missing. You and your group are curious on his disappearance. You go to his mansion and find whatever clues there maybe at his home to help learn on his whereabouts. Your group enters his home and then you hear a metal "shunk" behind you. The door is locked and you are stuck. Can you get out?
This is one of two Think Fun Escape Room games. The other one is called:
Escape the Room: Secret of Dr. Gravely's Retreat.
This was my first Escape Room board game experience. My group consisted of myself and 3 other people. In this game there is a booklet with 5 packets and a cypher. You start the time watch at 60 minutes and dive in. The game gives you a sample packet on what to expect and some direction into the game. If you make it past that, then, you open the next packet. You discover new puzzles and tools throughout the game and move from packet to packet. Each one of us got a chance to read and solve a puzzle. Our team worked almost flawlessly on each puzzle. Solving them quickly and moving on. One puzzle had us stumped and took some time off the clock but we quickly recovered. One puzzle was solved within seconds upon discovery. We successfully cracked the case and escaped without issue. Many of high fives were given and celebratory beers drank. We solved it with 15 minutes on the clock.
Overall it was fun and I liked it. The game can be repackaged and replayed but if anyone played this game, you will know all the secrets and solutions. I really like the story line and the puzzles were interesting but easy. The components were well done and the graphic design and art were good. 4 players was the right amount. I would never play this game or any Escape Room board games with more than 4 people. If you have 4 or more people, I think people will lose interest and disconnect from the game. 3 or 4 people is right there in the sweet spot for this game. I recommend this game for players that never have done an Escape Room, are non-gamers, or anyone that wants to have fun.
Game Stats for Escape the Room: Mystery at the Stargazer's Manor:
Plays 3-8
Ages: 10+
Time: 90 minutes. 30 for instruction, 60 to play
Designer Rebecca Bleau, Nicholas Cravotta
Artist Erwin Madrid
Publisher HCM Kinzel, Mercurio, ThinkFun
MSRP: $21.99
Amazon: $13.99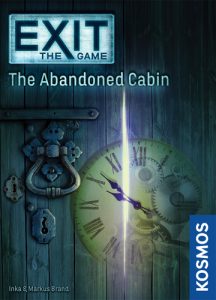 Your car breaks down in the rain (of course). Your group travels down a dirt road and find a cabin, a perfect place for the night. You and your group sleeps easy for the night and wake up to discover that the door has a lock on it. A mysterious book is on the table. Can you and your group figure out a way to escape??
This is one of three EXIT games by Kosmos. The other 2 are The Secret Lab and The Pharaoh's Tomb.
This is my second Escape Room board game. My wife, 8 yr old daughter, and myself played this one. Like the Stargazer game there are several puzzles. There are 3 decks of cards that come with this game, a book, and a cypher wheel. The book has several pages of text, problems, and weird designs. There is a "riddle" deck, "answer" deck, and if you have issues a "clue" deck. You read a certain article and it will tell you which riddle cards to pull from the riddle deck. There is a chart on the cypher which you move 3 wheels each has a shape, numbers, and colors on it. Hopefully you find out which answer card you need to pull from the answer deck and you move on. If its wrong then you have to rethink the problem.
If you are stumped you can look at the clue cards. Each puzzle has a 2 coordinating clue cards to help you along. If you are still stumped on the puzzle then there is an answer card. Then you can move on.
When you complete the game and successfully escape, you compare a couple of things. In the back of the rule book there is a chart that tells you how well you did. You take your time to complete and how many clue cards that were used on the chart and it will tell you have many stars you get. 10 stars is perfect and you get less for more time and the more clue cards you used.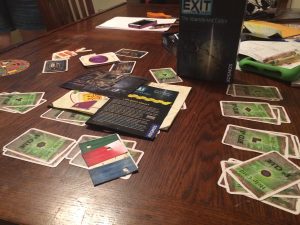 Overall I thought this game very challenging and a lot of fun. You will physically destroy this game. Ripping, cutting, and folding items in the game. Which makes the game way more fun. And as a side note all of the Kosmos Escape Rooms will be ruined after you finish them. The puzzles were hard for us. We ended up using a lot of clues. But when we finished the game we were in envy of the game and its difficulty. By far this one was the hardest of the three I am reviewing here. I thought the decks were weird at first but throughout the game it made perfect sense when we had to use them. I recommend this game to anyone that likes Escape Rooms and challenges. Non-gamers would like this too. By the way, my wife and I got 4 out of 10 stars and sadly we thought that was good.
Game Stats for EXIT: The Game – The Abandoned Cabin
Plays 1-6 players
Time: 45-90 minutes
Ages: 12+
Designer Inka Brand, Markus Brand
Artist Silvia Christoph, Franz Vohwinkel
Publisher 999 Games, KOSMOS
MSRP: $12.99 (if you can find it in stock)
Amazon: $24.99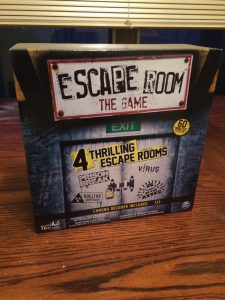 This game is the big box of Escape Rooms. It has 4 exciting rooms to escape from. Prison Break, Virus, Nuclear Countdown, and Temple of the Aztec. There are 2 more expansion rooms available and each are sold separately. They are Murder Mystery and Welcome to Funland. Also, 2 more expansions will be released later this year, Casino and Space Station.
My wife, brother, and I played Prison Break. This is the first room that the game recommends playing. Inside there are four packets for each room, a bag of plastic keys, and a Chrono Decoder that requires 3-AA batteries. After reading the rules, putting batteries in the Decoder, and familiarizing ourselves with the keys we found ourselves stuck in a prison cell that once a mathematician once inhabited. Numbers and symbols are graffitied all over the cell. How will we ever escape?
In Escape Room: The Game, Prison Break you need to find solutions to problems and figure out and escape. In this game the Chrono Decoder will let you know if you are correct or incorrect by inserting a combination of 4 keys along with a 60 minute timer. But if you are wrong, then it will shave one minute off your time.
Escape came easy with 11 minutes 15 seconds left on the clock. That includes my brother shaving off 3 minutes screwing around the keys.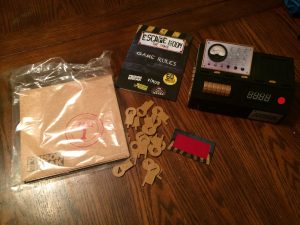 Overall this one was good. The puzzles were easy for us. We were hung up on 2 of them using 3 clues. Of all the 3 Escape Rooms reviewed this one felt the most generic of the 3 but I am hoping the rooms get better the deeper we dive into them. I recommend this for families and non-gamers.
Game Stats for Escape Room: The Game
Plays: 3–5 Players
Time: 60 minutes
Designer N/A
Artist Roland MacDonald
Publisher Diset S. A., Identity Games International B.V., Noris Spiele, Spin Master Ltd.
MSRP: $39.99
Amazon: $29.74
The games reviewed were all fun and would look forward to playing more of these types of games. My favorite of the 3 would be EXIT: The Abandoned Cabin even though we didn't do very well but I enjoyed the others too.
The price value of the games are great. $15 for pretty much the smaller games and the big box for $30 is a bargain even if they are 1 time plays. Hopefully they keep them coming out with new and innovative Escape Rooms.

Please join the conversation in the comments below or on Facebook!
Save
Save
Save