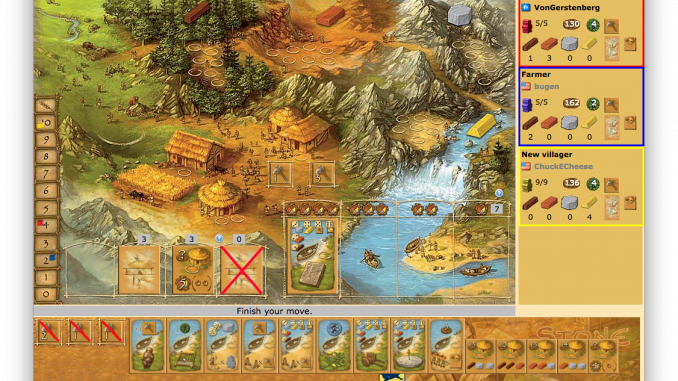 Being a parent has significantly reduced the amount of gaming that I get to do. I play half as often with my game group and any gaming after the kid has gone to bed is nonexistent; doing nothing or going to sleep is much preferred. But just because the gaming has slowed doesn't mean the urge to play has. There are a number of great online board game websites and programs that allow you play games via the internet with friends or strangers. Here is a list of some of my favorite places to play online.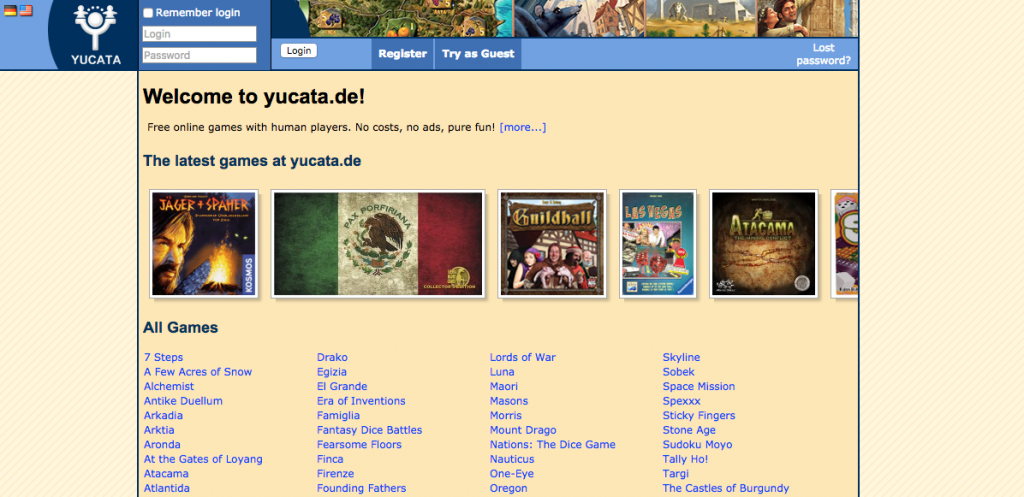 Yucata isn't exactly a pretty site but it has a significant selection of games to play on a turn-by-turn basis. Some of the game interfaces can be a little confusing at times but once you spend a little time with the site it all becomes second nature. One big positive of Yucata over some other similar sites is that it will send you an email notification every time it is your turn. Some sites below will only send that notification once a day unless you are a premium member. Once a day notifications drastically slows down online games and fortunately Yucata is able to avoid this.
Game highlights: Can't Stop, Carson City, El Grande, Guildhall, Targi, The Castles of Burgundy, The Voyages of Marco Polo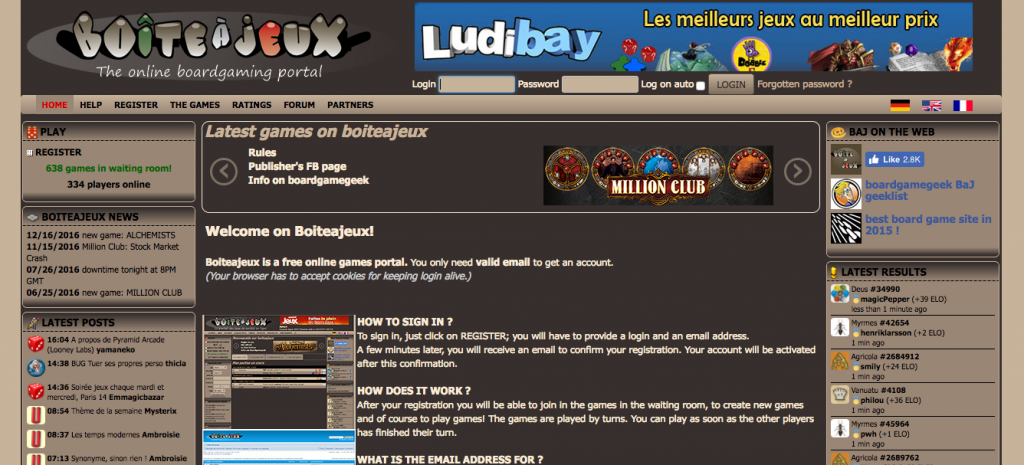 I can't pronounce it, but Boiteajeux is another great turn-by-turn site for games. Their list is smaller than Yucata, but they have a few really great games available. They also have several games from the Gipf series listed. I'm not familiar with them by anything more than name but if you like abstract games Boiteajeux might be worth checking out. As I mentioned above, online notifications are important for games being played turn-by-turn and Boiteajeux only sends them once a day unless you are a premium member. The premium membership offers a few other perks but nothing that I really feel justifies the cost when there are other free alternatives out there.
Game highlights: Agricola, Alchemists, Concordia, The Castles of Burgundy, Tzolk'in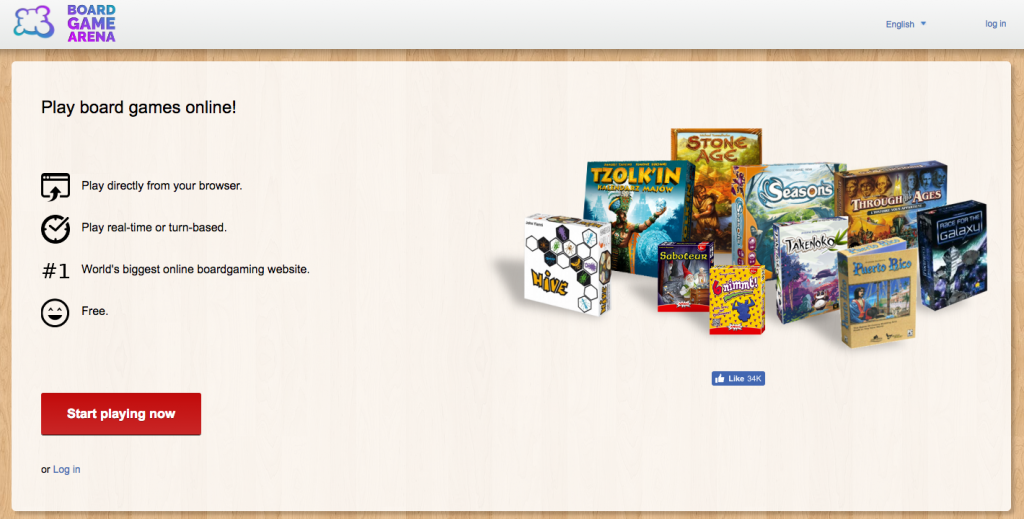 Board Game Arena is probably my least visited site of the ones listed here, so much so that when I went to the site while writing this they had completely overhauled it without me knowing. The big differentiator for Board Game Arena is that it has the option for real-time games. This is nice if you can get a few people all available at the same time. They also have a great selection of games with many that are held in very high regard.
Game highlights: Caylus, Coloretto, Haggis, K2, Libertalia, Lords of Xidit, Race for the Galaxy, Through the Ages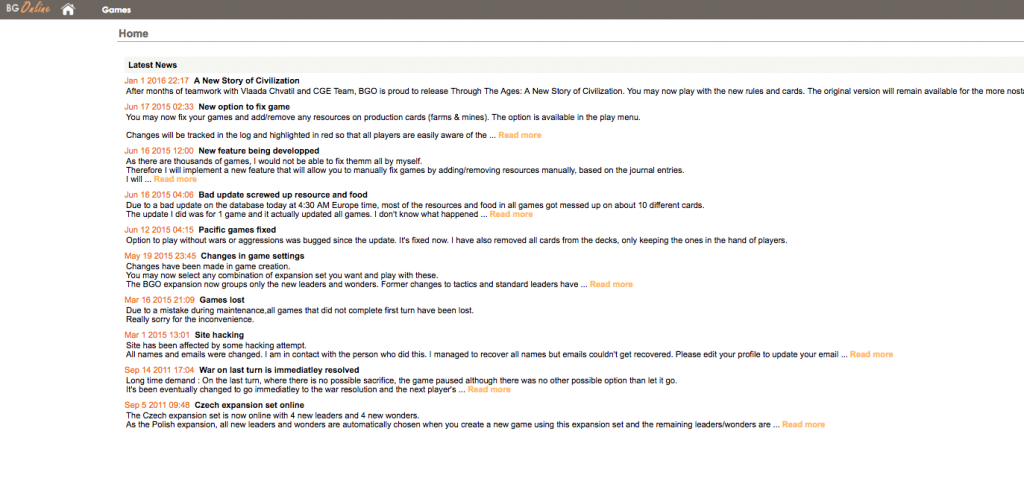 Boardgaming-Online is different from the other sites mentioned above. It is dedicated to just one game, but it's an all-time favorite of mine, Through the Ages. The interface isn't exactly pretty, but it works great and lets you take your time in a game that is notoriously long when played in person. To make it even better they added the option to play the updated version of the game when it released last year. Most of my plays of Through the Ages have been on this site and will likely continue that way. It's just a better way to play.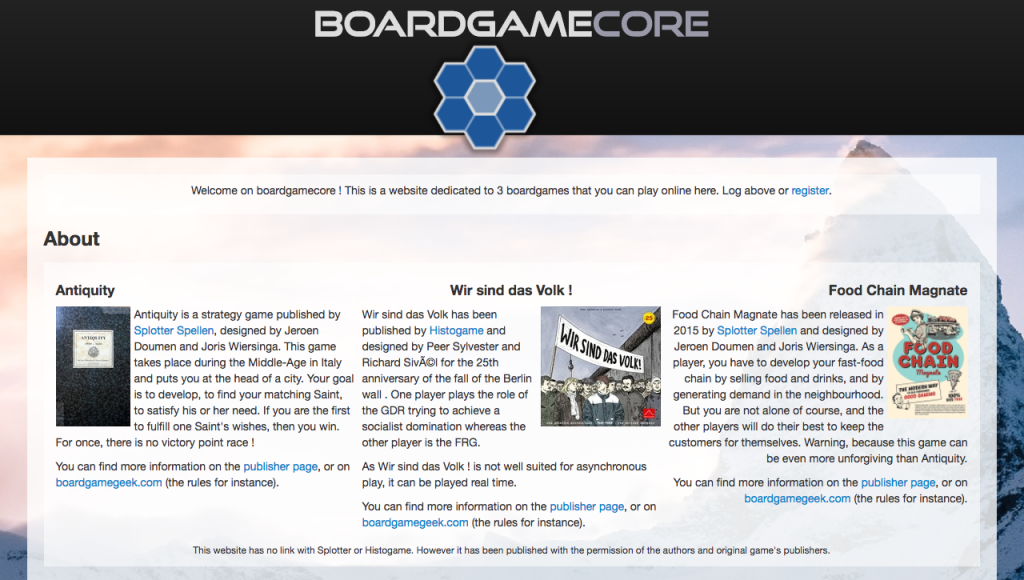 Boardgamecore is another site dedicated to just a few games, one of which again happens to be a favorite of mine, Food Chain Magnate. This site is what introduced me to the game and eventually led to me spending the cash to purchase the game. It's a little harder to play Food Chain Magnate this way, as the game really encourages you to watch every players' moves, but having time to work through your strategy and the best moves to make is really appealing. Boardgamecore also allows you to play Antiquity and Wir sind das Volk, but admittedly I don't know much about those titles. This site is run and hosted by one person so it has its occasional hiccups but overall it's a great place to play.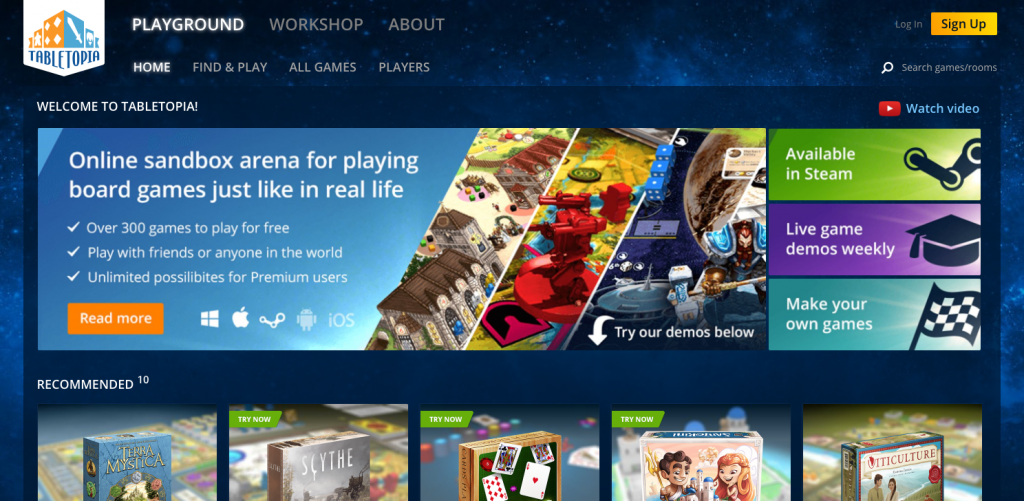 I have used each of these once. They each have their pros and cons, but really they aren't my preferred way to play online. Each has a physics engine that tried to emulate a real board and playing pieces, but in order to interact with those things there is a learning curve to conquer. Until you do that it's pretty awkward and cumbersome. Tabletopia definitely has a better interface and I think the learning curve is probably smaller, but the pricing structure around it makes it somewhat unappealing and the user base seems relatively small. I may jump back in to one of these again in the future but if the game is available on one of the sites listed above, I'll be playing there first.
Apps
A lot of great games have been turned in to great iOs/Android apps. Be sure to check out the app stores to see if there is an app for something you want to play!
Do you have a favorite site or game to play online? Let us know in the comments below or on Facebook!