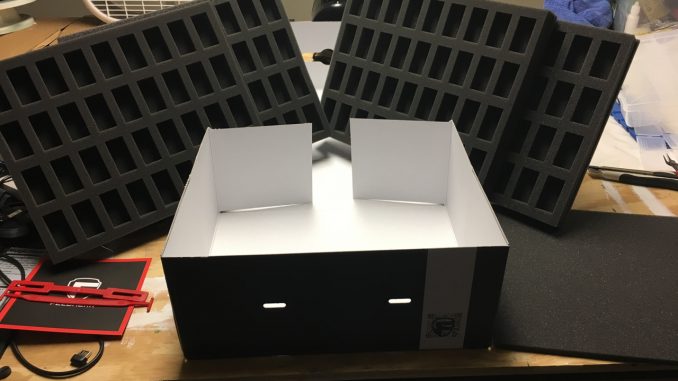 I have a lot of miniatures and am always in need of a method to store them and occasionally transport them.  A lot of the gaming that I do is admittedly in my own home in my game room, but every so often I get the opportunity to go play games at a local hobby store with some friends.  I have all kinds of means for storing miniatures.  Some sit on shelves, some are packed in Sabol Army Transport Trays, some in Battlefoam Trays, some in plastic tackle boxes, some in cardboard boxes.  Each of the ones I've mentioned have their pro's and con's and I'll explain a few of them as I review this Feldherr Storage Box M.
My favorite method of figure storage is Battlefoam, but it comes with some baggage. The cost is high per tray and Battlefoam's delivery time has been slow for pretty much every order I've ever made.  Those issues aside, their trays have a sturdy bottom and a great array of compartment sizes.  In addition to that, they make custom cut trays for most popular games out there that involve miniatures.
I've described my favorite method of storage so that I can add a bit of context to the Feldherr Storage Box M.  I was doing some digging for the cheapest method to store miniatures that didn't involve magnets and making my own contraption.  My ideal storage method would be something that I can cheaply get many of the same thing for easy storage, a hard thing to come by.  During my searches I came across this company called Feldherr, which I had not heard of until a few days before writing up this review.  They had a handful of products on Amazon and looked to be in the price range I was looking for.
The box and trays included hold 144 miniatures and each compartment is 25mmx50mm, all 4 trays plus a topper for the top most tray fit inside of the included box with handle.  If you've been looking through the images on this post you'll notice that I've filled the trays up with a bunch of older Games Workshop figures and some fit nicely while others have to large of weapons to allow for them to fit entirely into the compartment.  This is kind of a bummer but not unexpected since every tray is identical.  Archers fit perfectly, guys with halberds do not.  If you had an entire army of dwarves or halflings, this try would pretty much fit your needs.  If you have an army of guys holding pikes, standards, or anything of considerable (in miniatures terms) height, they won't fit so well.
So where does that leave me with this review?  The main pro of this item is that it's cheap, this box cost me $36.99 on Amazon Prime (Prime is $99/year).  This is the cost of 2-3 battlefoam trays and it comes with its own carrying case.  All of these things are great.  One of the things I dislike the most is how flimsy the trays are compared to it's competitors, it's a shame the bottom layer of foam isn't more rigid.  If I could change one thing on this product, it'd be that they put more of their product line on amazon.com.